Cabinet Painting –
Guy Painting – THE Cabinet Painting Pros!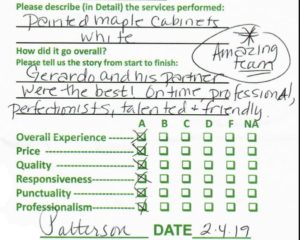 Above is the Grade Card filled out by Mr. Patterson.  As you can seen, she was impressed with the amount of prep and professionalism that it took to give her cabinets that new factory finish. She was also very kind to tell us how "AMAZING" and "FRIENDLY" the team was from Guy Painting.

CALL US FOR A QUOTE 317-708-1200 – and you too can have the same experience with a newer updated looking kitchen!
Guy Painting – Interior Painter – Fishers Painter – Cabinet Painting  Continue reading →